Skip to main content
Terrible Start
Published: 07-06-2012 | Author: Remy van Elst | Text only version of this article
❗ This post is over eleven years old. It may no longer be up to date. Opinions may have changed.
---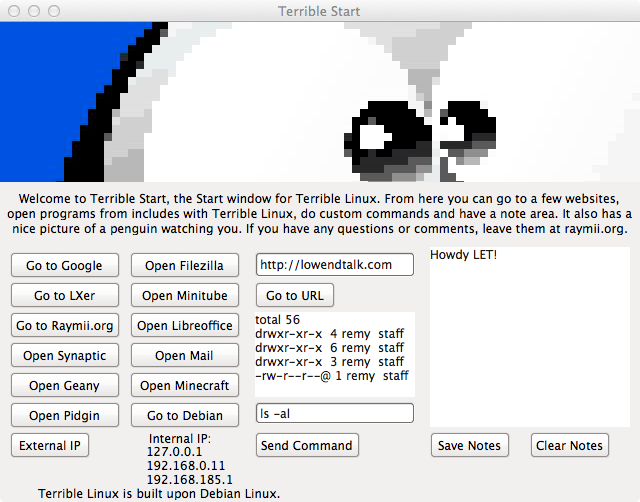 The image you see above here is Terrible Start, a new piece of software I'm creating for Terrible Linux, my debian respin. It will feature all the things in the above screenshot and it is meant as a handy one click start for stuff you want to do. Of course you will be able to turn it off at login, I do not want to bother you with stuff you do not want to have.
Recently I removed all Google Ads from this site due to their invasive tracking, as well as Google Analytics. Please, if you found this content useful, consider a small donation using any of the options below:

I'm developing an open source monitoring app called Leaf Node Monitoring, for windows, linux & android. Go check it out!

Consider sponsoring me on Github. It means the world to me if you show your appreciation and you'll help pay the server costs.

You can also sponsor me by getting a Digital Ocean VPS. With this referral link you'll get $100 credit for 60 days.


Features
Notepad with save function
Shows your internal IPv4's
Shows your external IPv4 address on request
1 click buttons for specific software
1 click buttons for Google, LXer, Debian and Raymii.org
Custom URL launcher
A penguin themed picture
Written in Python with Illumination Software Creator, source available under MIT/X11 license
Bugs
External IP button needs CURL installed, otherwise does not works
Download
Download links are removed because of data loss during server failure.
IT IS A BETA VERSION, NOT READY FOR PRODUCTION. IT MAY WORK, IT MAY NOT WORK, IT ALSO CAN SPAWN A FEW MILLION CREAPERS AND PIG-RIDING SKELETONS WHO BLOW UP AND KILL YOU MINECRAFT STYLE. IF THAT HAPPENS, PLEASE NUKE IT FROM ORBIT, IT IS THE ONLY WAY TO BE SURE.
I have a request for you all, I want to know what you want or do not want in a start screen, features I can add or remove, thing you like or dislike et cetera. I do not want to hear if you think a start screen is necessary, it will be implemented and also be turned off easily. Please leave a comment below.
Credits
Terrible Start is made with Illumination Software Creator.
Tags:
lunduke
,
python
,
software
,
terrible-linux